Data, Analytics & Insights to prove ROI & improve results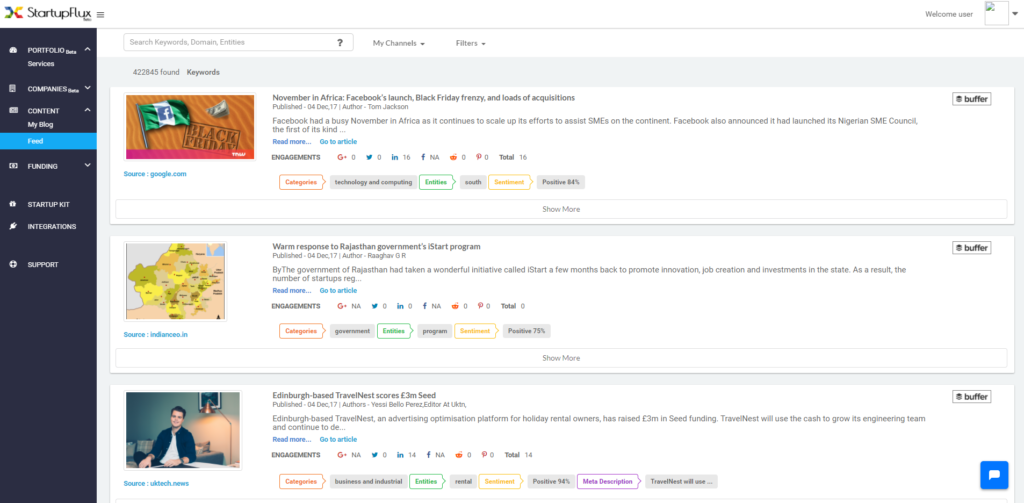 Content Discovery
Discover by Time Period
Discover the most shared content in the last 12 months or the last 24 hours. Find the trending content and analyze what is trending over time.
Discover by Website
Search by domain by typing in the domain such as forbes.com, to find the most shared content from that domain.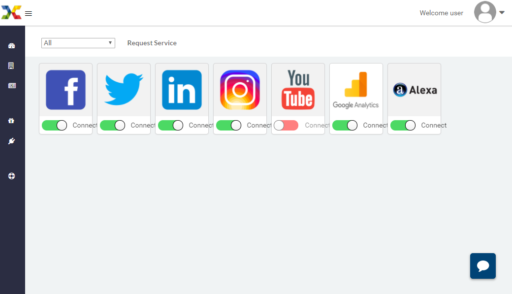 Pre-Built Apps
Monitor the most important metrics & Statistics from all your account at one place.
Social Insights
Page Insights will help you sort and filter to determine the tastes and interests of your audience.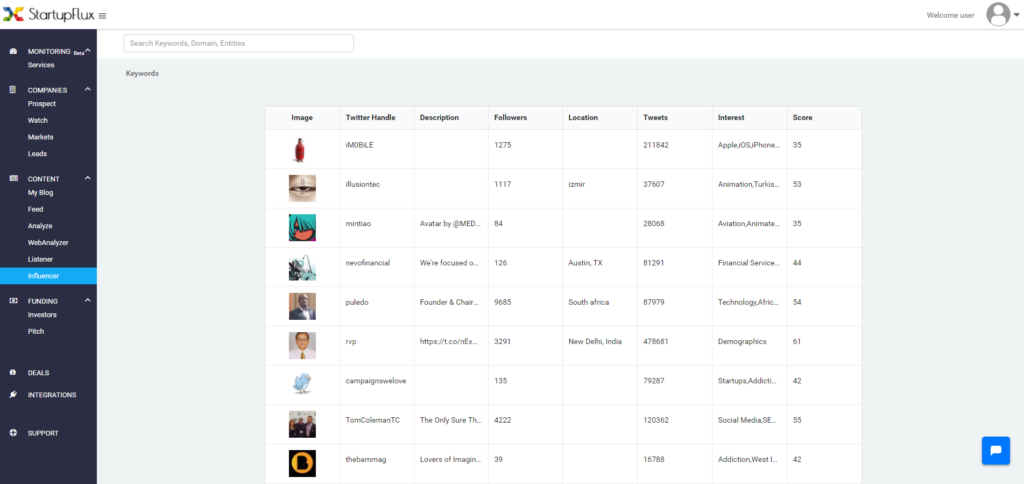 Influencer Search
Identify Influencers
You can search for key Influencers by Topics, or Industry. See content that they are sharing.
Engage Influencers
Follow, Tweet to, or message Influencers from directly within StartupFlux.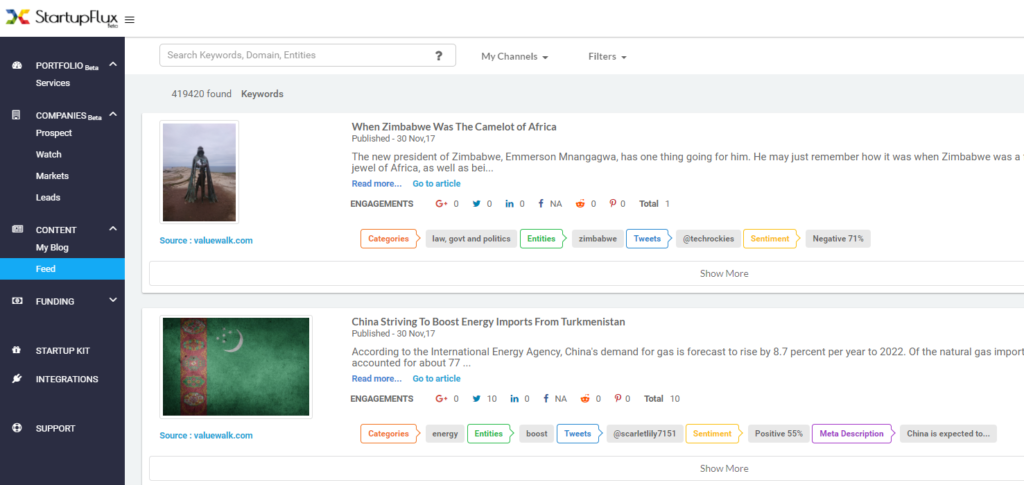 Author Search
Follow Authors
See what platforms are the authors publishing on and getting what kind of engagement
Find Authors
Click on Author or search author:JohnDoe to find authors and the content they've published.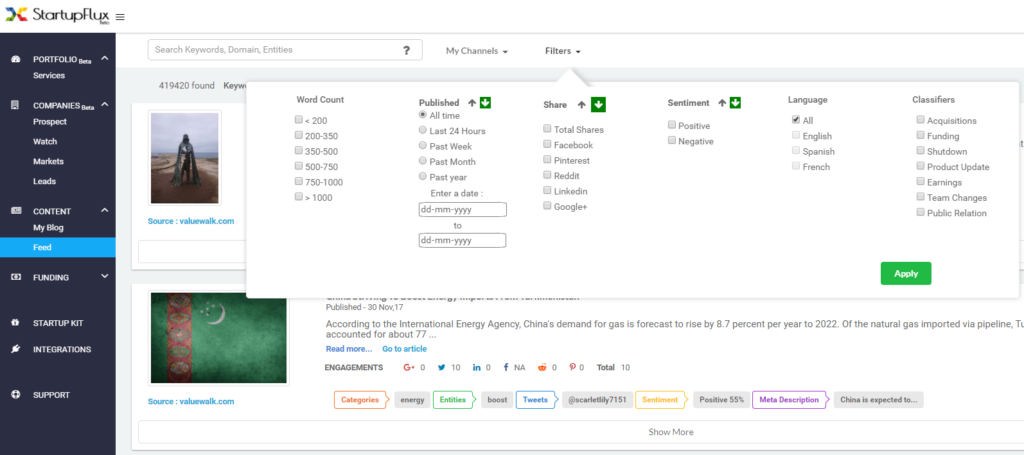 Content Curation
Identify Key Success Factors
Learn which topics are relevant to your audience and drive the most engagement.
Save Into Channels
Save queries into channels and get alerted when new content is published that matches your queries.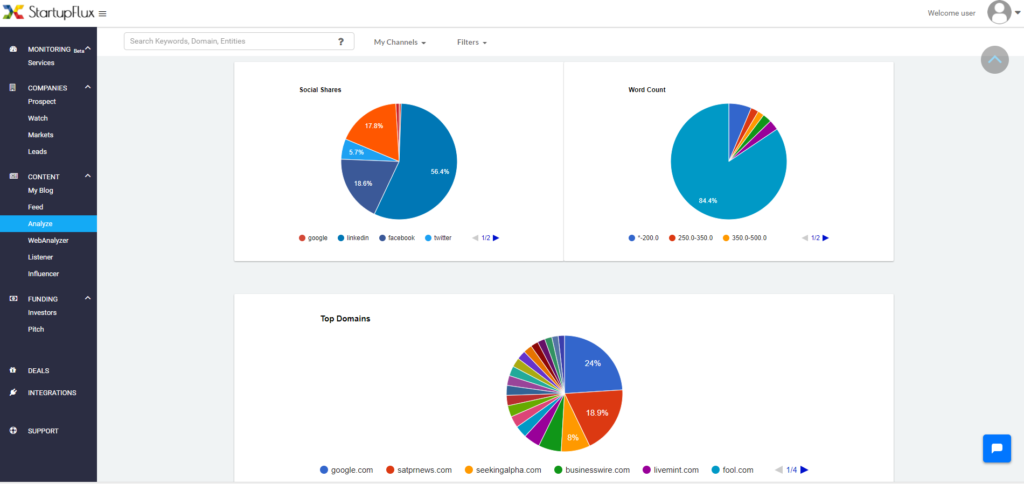 Content Analytics
Audit your Content Library
Analyze how your content is performing, who is sharing your content and what network work best for you.
Measure owned KPI's
Analyze how content is performing by content length, social networks, authors or influencers.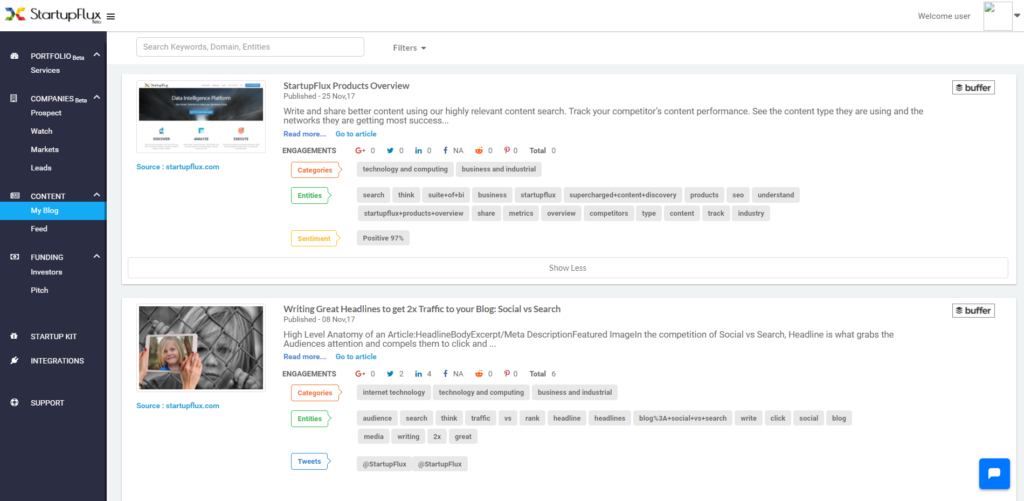 Competitor Research
Spy on Competitors Content
Enter a competitor's domain to search for their most shared content. Analyze what is working for them.
See who's sharing Competitor content
See who has been sharing your competitor's content.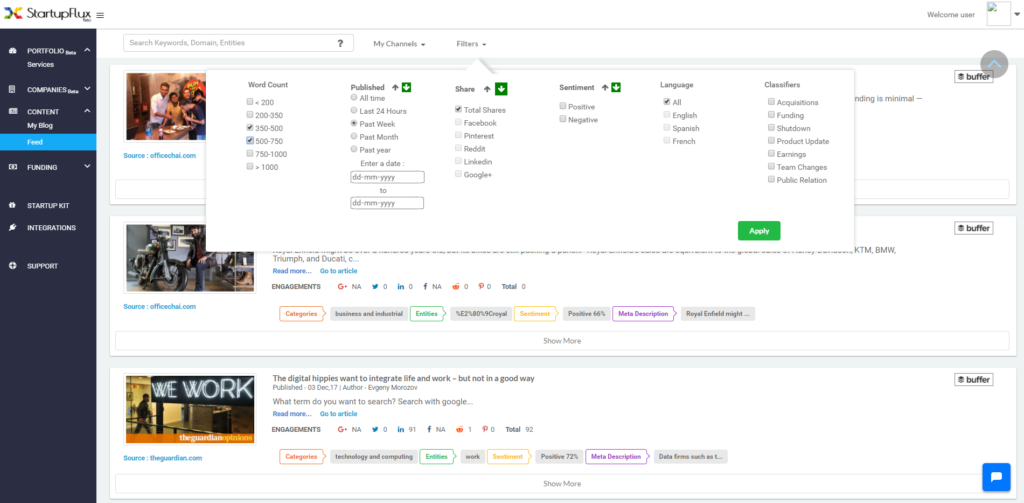 Customer Research
Improve Sales Conversions
Research about prospective customers & industries to delight them with your knowledge.
Proactively Keep Customer Happy
Keep your customers happy. Stay on top of how they or their industry is performing. Stay updated and act accordingly.
We're Future Ready
Tools/Integrations for Marketing Intelligence
Composer
Get Scored on your Content. Analyze Headline, Related Articles, Keyword & Hashtag recommendations.
Social Listener
Listen to blogs, Comment feeds, Forums, multiple social networks for keywords or brands that people are talking about.
Newsletter
Automated Newsletter to share the most relevant content with your team, audience or your customers.
Website Analyzer
Automated Newsletter to share the most relevant content with your team, audience or your customers.
Scheduler
Quickly and Easily Schedule posts for all your social accounts. Automate sharing your Blog or your saved Channels.
Influencer Dashboard
Discover your Business's most useful advocates & engage with them via StartupFlux Influencer Dashboard.
Want Early Access?
We work with several large companies to help build and deploy custom solutions for their team. Here's your chance!
REQUEST A DEMO