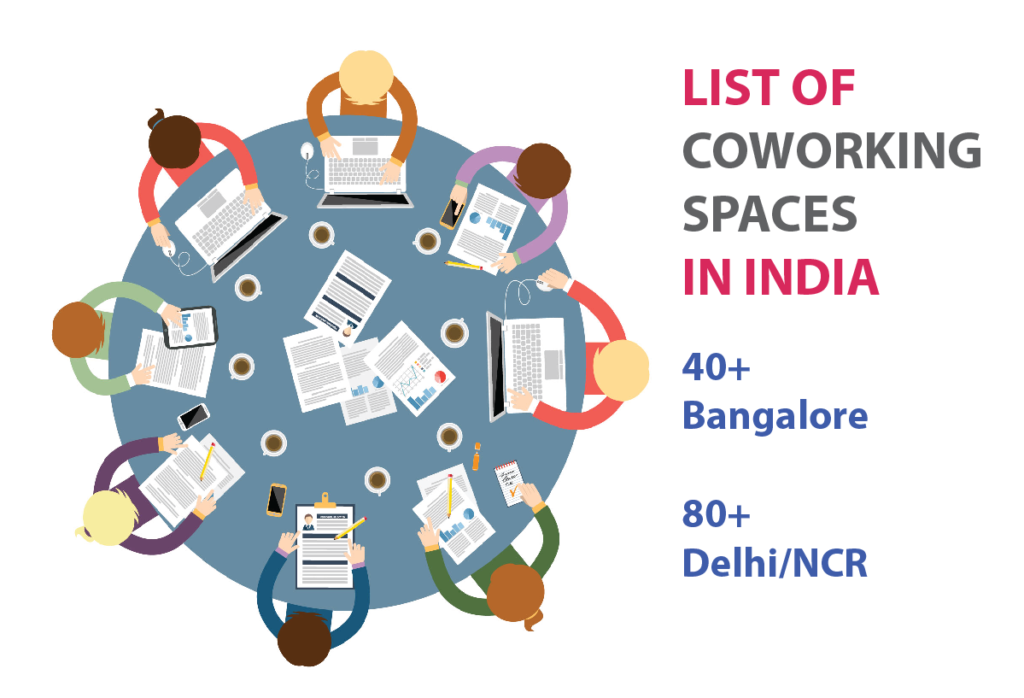 We collected a list of Coworking spaces in India. So far we've found 212 and will be adding more as and when we find them.
To add your coworking space to the list, email to [email protected]
Write to us at [email protected] if you need their email, phone numbers, full address and price ranges.
| NAME | LOCATION |
| --- | --- |
| 1947: Coworking Infocity | Gujarat |
| 24 x 7 Working Space | Delhi |
| 2499 Office | Delhi |
| 9 JCM | Gurgaon |
| 91 Springboard | Delhi |
| A Little Anarky's Coworking Space | Delhi |
| Aditech | Mumbai |
| Adyar | Chennai |
| AltF | NCR |
| AltF Coworking | DLF Phase 3, Gurgaon |
| Arcadia (Regus) | Kolkata |
| Arora Real Tech Pvt. Ltd. | Gurgaon |
| Atrium Lounge | Gurgaon |
| Augusta Point | Gurgaon |
| Aundh Shared Office Space | Pune |
| Avanta Business Center | Delhi |
| Awfis | Mumbai, Delhi, Bengaluru |
| AWFIS Coworking |   |
| Bangalore Alphalab | Bengaluru |
| Bangalore Coworking Hub | Bengaluru |
| Base Station | Delhi |
| BD Hangout | Delhi |
| Bengaluru Alpha Lab | Bengaluru |
| Bengaluru Coworking Hub | Bengaluru |
| BHIVE Workspace | Bengaluru |
| Bit Brothers | Mumbai, Maharashtra, India |
| Bizards IT Solutions | Bengaluru |
| Bold Kiln | Sector 10, Noida |
| Bombay Connect | Bandra, Mumbai |
| C-Block Shared Office Space | Gurgaon |
| Centre A | Kerala |
| Centre for Innovation and Entrepreneurship (CIE) Coworking Space | Hyderabad |
| CEO Jaipur | Jaipur |
| Cercles | New Delhi |
| Co Karma | Hyderabad |
| Co-Work Gurgaon | DLF Phase 1, Gurgaon |
| Co.Lab.Orate | Hyderabad |
| Co.Lab.Orate (CLO) | Hyderabad, Andhra Pradesh, India |
| Cobalt BLR | Bengaluru, Karnataka, India |
| Collab House | Hyderabad |
| Collaborative Business Consulting | Delhi |
| Constantia (Regus) | Kolkata |
| Cosphere | Gurugram |
| CoSphere (Stone & Chalk Softech Private Limited) | Gurgaon, Haryana, India |
| CoWork Cafe | Bengalur |
| Cowork Delhi | Delhi |
| Cowork Inc. | Pune |
| Cowork India | Bengaluru |
| Cowork Office Mumbai | Mumbai |
| Cowork Zone | Hyderabad |
| CoWork247 | Bengaluru |
| CoworkIn | New Delhi |
| CoworkIn GK2 | Greater Kailash 2, Delhi |
| CoworkIn Lajpat | Lajpat Nagar IV, Delhi |
| CoworkZone | Hyderabad |
| CoWrks | Bengaluru |
| CozyCO Office | Chandigarh |
| Cybercity | Gurgaon |
| Delhi Co | Shahpur Jat, Delhi |
| Delhi Rectangle | Delhi |
| Diginex Solutions | Pune |
| Dimension Coworking Space | Chennai |
| DLP India | Delhi |
| Doxa Business Centre | Chennai |
| Elegance (Regus) | Delhi |
| Entrepreneur Facilitation Center | Pune |
| Envesage | Gurgaon |
| ESCL Business Center for Startups | Gurgaon |
| Eureka Startups | Pune |
| Evoma | Bengaluru |
| Experia Media | Gurgaon |
| Garage | Mumbai |
| Garh Co. | Delhi |
| GloCal Coworking Space | Gujarat |
| GNMV Spaces | Mumbai |
| Grappus Coworking |   |
| Green Boulevard | Noida |
| Green Desks | Delhi |
| Gurgaon IT Hub | Gurgaon |
| Hatch 101 | Gurgaon |
| Hatch Station | Hyderabad |
| Hatch101 | Delhi |
| Hauz Khas Social | Delhi |
| HiTech – Krishe Sapphire | Hyderabad |
| Hustle Cowork | Delhi |
| IdeaPad | Jaipur |
| Igloo | Mumbai |
| iHub | Hyderabad |
| iHub Economical Serviced Office | Hyderabad |
| iKeva | Hyderabad |
| ILD Trade Center | Gurgaon |
| Incubex | Bengaluru |
| Inhwa Business Center | Gurgaon |
| Innov8 | New Delhi |
| Investopad | New Delhi: |
| InWorks | Delhi |
| Jaaga | Bengaluru |
| Janus Info Park | Chennai |
| Just Co Working Space | Sector 19, Gurgaon |
| Kaya Space | Chennai |
| Keralas IT | Kerala |
| KLJ Tower | Delhi |
| Konnectus | Delhi |
| LAQSH | Bengaluru |
| Layton Business Center | Noida |
| Lumos Cowork | Mumbai |
| M.A Business Center | Kolkata |
| MagicSpace | Rajasthan |
| Magik Cubes | Jaipur |
| Maker's Asylum Delhi | Hauz Rani, Delhi |
| Mansa System | Gurgaon |
| Metropolitan Cybercity | Gurgaon |
| MHS Collective | Delhi |
| Ministry of New | Mumbai |
| Moojic Plug & Play Coworking Space for Startups and Freelancers | Mumbai |
| Moonlighting | Delhi |
| Mstoic | New Delhi |
| myHQ | Delhi, Delhi, India |
| NetCubicles |   |
| Newbridge Business Centers | Bengaluru |
| Newbridge Business Centres | Gurgaon |
| Next Space | Bangalore, Karnataka, India |
| NKUBE India | Sector 18, Noida |
| No-Frills Office Spaces | Bengaluru |
| NUMA | Bengaluru |
| Numetric Technologies | Gurgaon |
| Office 425 | Gurgaon |
| Office Space Per Person Individuals Company | Delhi |
| Officespace.es | Bengaluru |
| One Internet | New Delhi |
| Opennovus Sharing Office Space | Chennai |
| Osprid Workstation | Mumbai |
| Our First Office | Mumbai, India |
| PIIC | Pune |
| Plug N Play Office Space | Gurgaon |
| PRObit Business Centre | Chennai |
| Pune Coworking Spaces | Pune |
| Pune International Incubation Center (PIIC) | Pune |
| Pune IT Park Incubation Centre | Pune |
| Raccord Space Sharing | Hyderabad |
| RDV Boulevard (Regus) | Kolkata |
| Redshift Business Center | Delhi |
| Regent Square (Regus) | Gurgaon |
| Regus | India |
| Regus Green Boulevard | Sector 62, Noida |
| Regus Gurgaon | M G Road, Gurgaon |
| Regus New Delhi | Nehru Place, Delhi |
| Regus Noida | Noida |
| Rent A Desk | Hyderabad |
| Rex Business Center | Delhi |
| Rhombex Society | Noida |
| Shared Office Space For Startups & Professionals | Gurgaon |
| Shared Office Spaces | Gurgaon |
| Sharma Kaj Buttan | Jaipur |
| SigmaWay Works | Laxmi Nagar, Delhi |
| Smart Spaces | Bengaluru |
| Snaplion | Delhi |
| Social Offline | Delhi, Mumbai, and Bengaluru |
| Socio-Business Studio | Delhi |
| Sorokasoft India Private Limited | Hyderabad |
| Sorokasoft India Pvt. Ltd. | Bengaluru |
| Soundnuos Business Centre | Bengaluru |
| Spaze i-Tech Park | Gurgaon |
| Sprout Box | Gurgaon |
| SproutBox | Gurugram |
| Srei Signature | Gurgaon |
| Starthub Nation | Chandigarh |
| Starttopia | Bengaluru |
| Startup Cafe | Bengaluru |
| Startup Goa Coworking |   |
| Startup Oasis | Jaipur |
| Startup Tunnel | Chhattarpur, Delhi |
| Startup Village | Kerala |
| Startup Warehouse (NASSCOM) | Delhi |
| Startups Buddy | Hyderabad |
| StartupWarehouse | Kolkata, Navi Mumbai, Pune, Kochi, Gurugram, Hyderabad, and Vizag. |
| Stirring Minds | New Delhi |
| SutraHR | Mumbai |
| SwaStart | Chennai |
| Tapasya Corporate Heights | Noida |
| Teaser Tech | Hyderabad, Andhra Pradesh, India |
| TechHub | Bengaluru |
| The Founders Cafe | Okhla Phase 3, Delhi |
| The Founders' Cafe | New Delhi |
| The Hive | Mumbai |
| The iPlex | Pune |
| The Mesh | Pune |
| The Playce | Mumbai |
| The Space | Mumbai |
| The Startup Centre | Chennai |
| The Studio | Delhi |
| The Valley | Hyderabad |
| The Works | Chennai |
| The Works At | Chennai |
| The Workspace | Mumbai |
| The Zen | Delhi |
| [email protected] | Chennai, Tamil Nadu, India |
| Think Valley | Sector 32, Gurgaon |
| ThinkValley | Gurugram |
| UnBoxed Coworking | Noida |
| Unigrowth Centre | Mumbai |
| Vatika Business Center | Delhi |
| Venture Center | Pune |
| Vyom | Bengaluru |
| Winspire | Gurgaon |
| Wired Hub | Rajasthan |
| Work Adda Coworking | Bengaluru |
| Work-Adda | Bengaluru |
| Working Company | Ahmedabad |
| Workly | Lajpat Nagar, |
| Wotta Workspace | Chandigarh |
| WV Softek Coworking Space | Bengaluru |
| Youthapreneurs Training Center | Mumbai |
| CoSpaze | Bangalore |