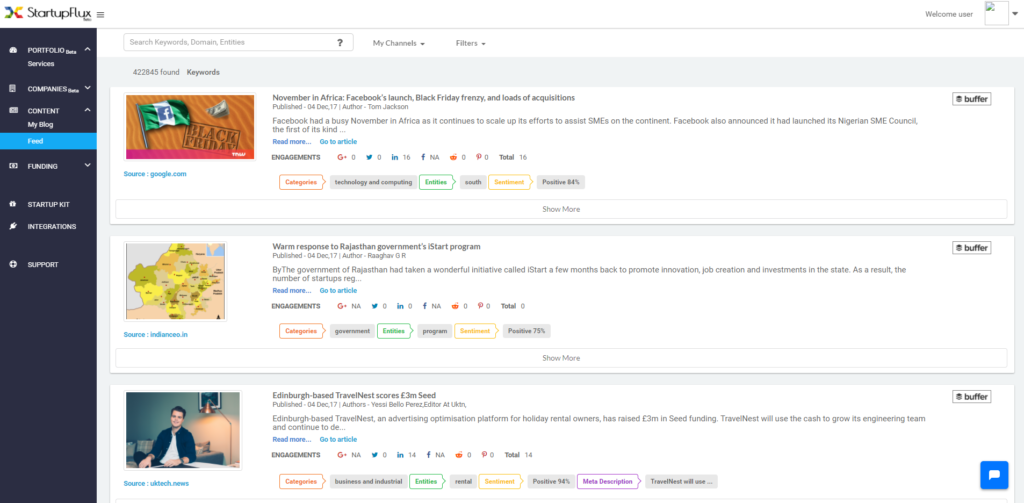 Content Discovery
Discover by Time Period
Discover the most shared content in the last 12 months or the last 24 hours. Find the trending content and analyze what is trending over time.
Discover by Domain
Search by domain by typing in the domain such as forbes.com, to find the most shared content from that domain.
Discover by Entities
Search by Industries, Keywords, Locations, People.
Content search allow you to dive deep into the data to gain actionable insights.
Follow Industry Trends, News on key people and Locations, and track content by your desired or pre-extracted topics.
Discover by Social Network
Filter by social platform to discover content that is resonating most on say Facebook or LinkedIn.
Discover by Author
Construct mockups or production-ready pages in-browser with Variant Page Builder
Discover by Influencer
Search for an author's most shared content by using the operator "author:John Doe" or click on their name.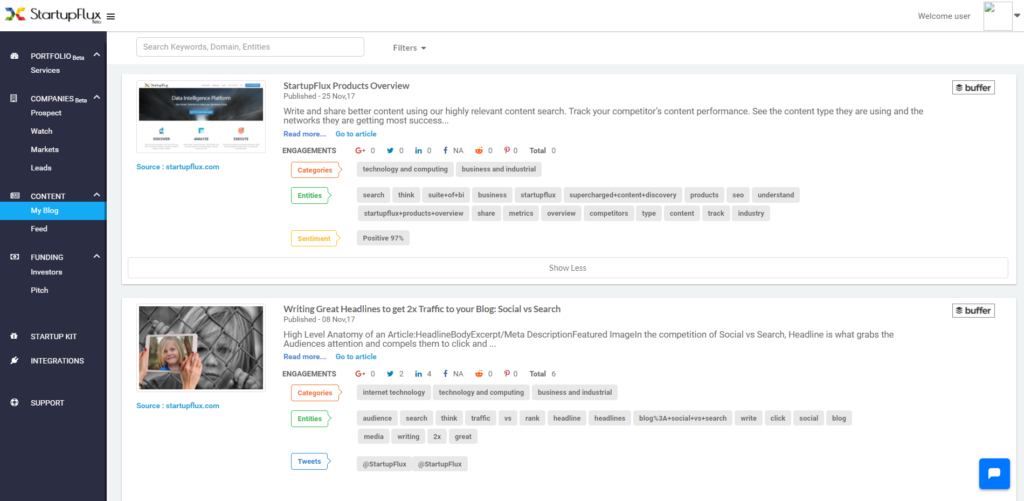 Influencer Search
Follow Influencers
Follow Influencers from directly within StartupFlux. See what content and domains they are sharing.
Find Influencers
You can search for the key influencers.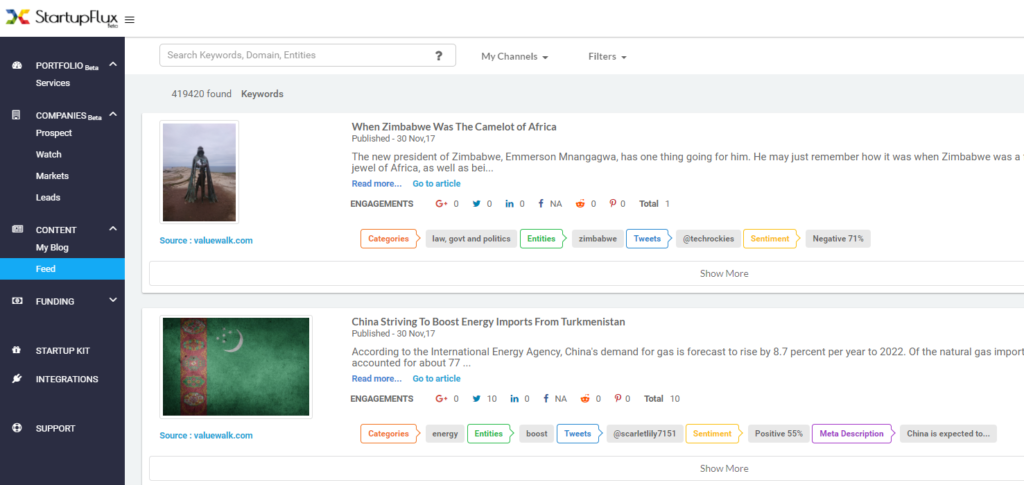 Author Search
Follow Authors
See what platforms are the authors publishing on and getting what kind of engagement
Find Authors
Click on Author or search author:JohnDoe to find authors and the content they've published.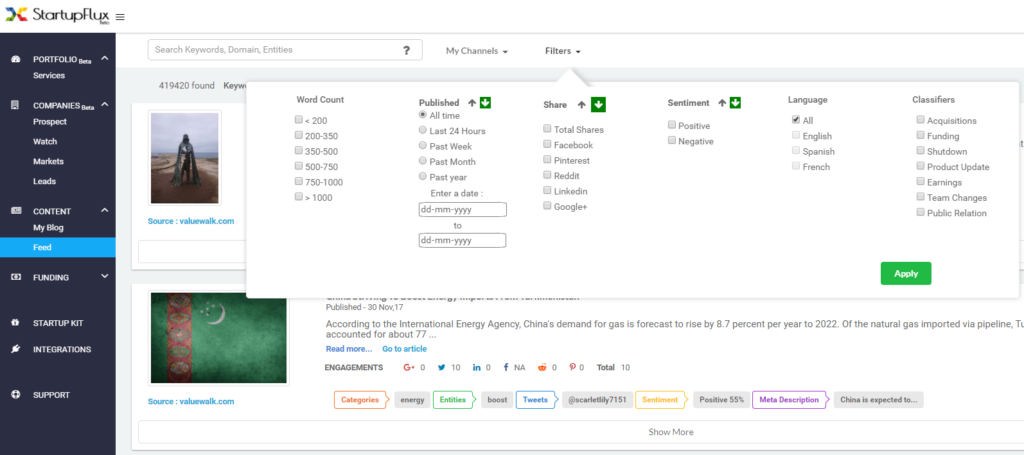 Content Curation
Analyze your Blog
Analyze how your content is performing, who is sharing your content and what network work best for you.
Custom Channels
Save queries into channels and get alerted when new content is published that matches your queries.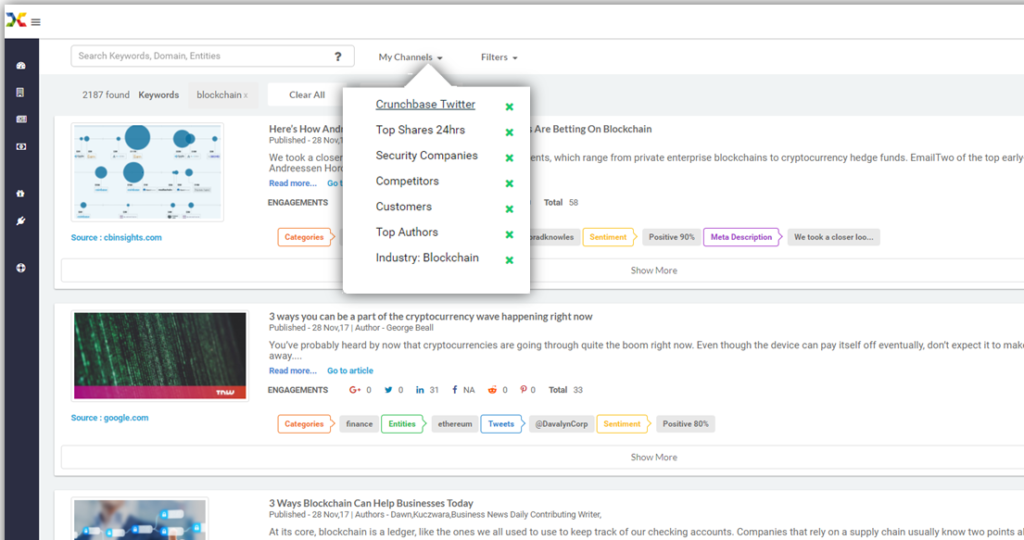 Content Analytics
Smart Analysis
Understand the type of content that works in your industry. Analyze competitors and your own domain for insights.
Analyze by Parameters
Analyze how content is performing by content length, social networks, authors or influencers.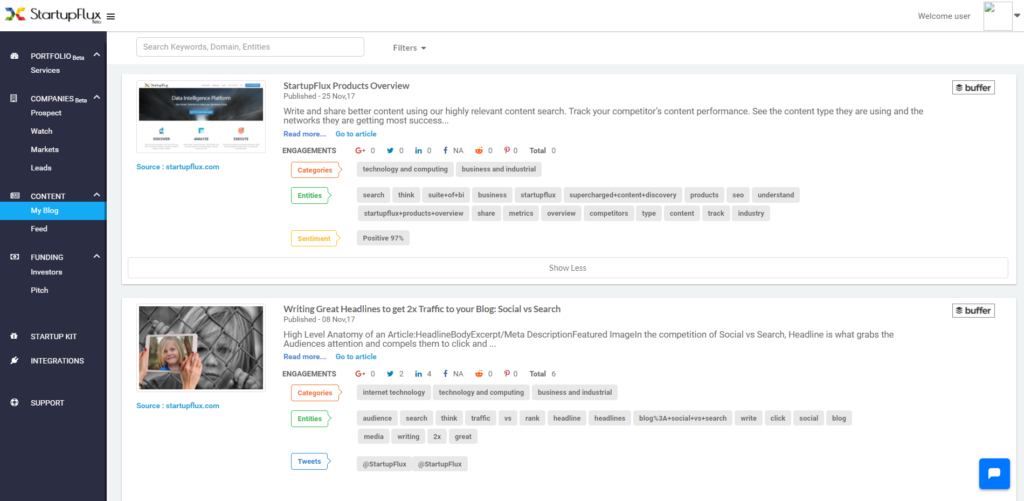 Competitor Research
Blog Anaysis
Enter a competitor's domain to search for their most shared content. Analyze what is working for them.
See who's sharing Competitor content
See who has been sharing your competitor's content.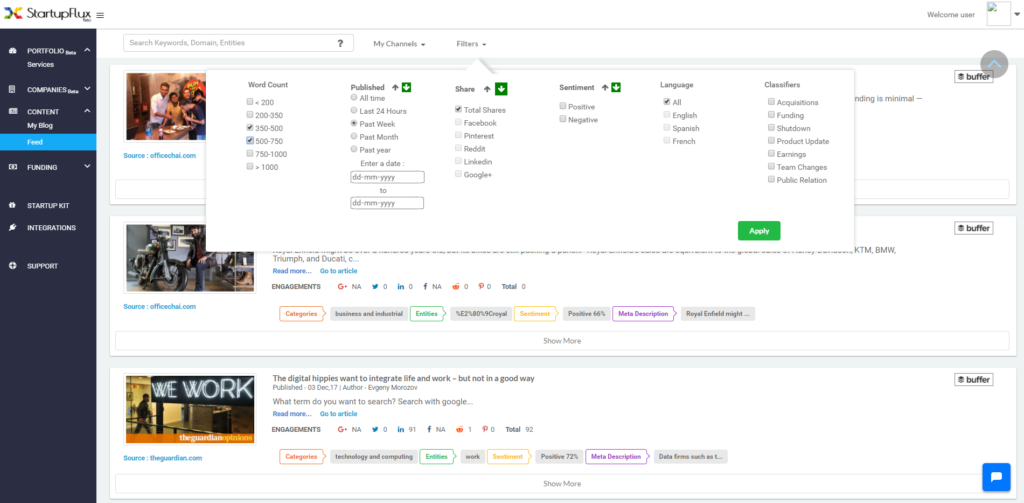 Customer Updates
Convert Customers
Research about prospective customers & industries to delight them with your knowledge.
Be Proactive
Keep your customers happy. Stay on top of how they or their industry is performing. Stay updated and act accordingly.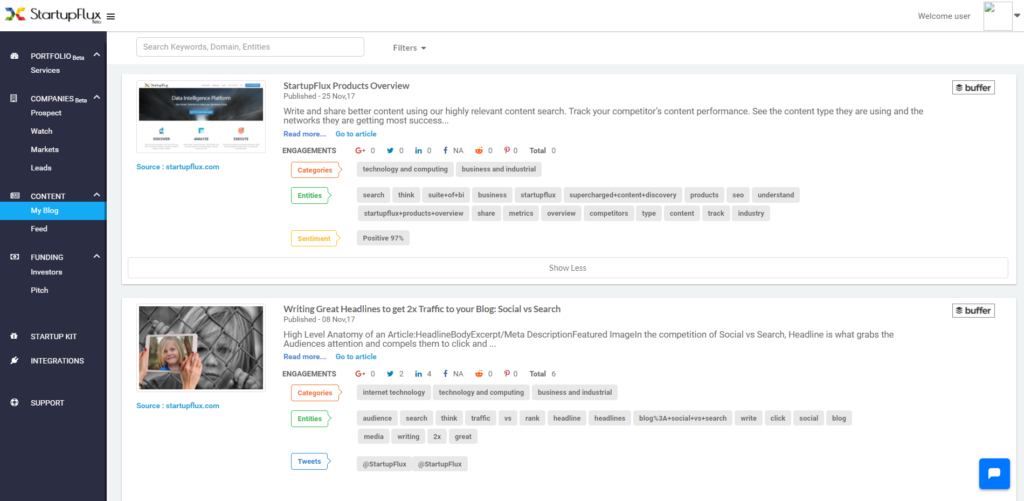 Share Content
Publish
Find the most engaging content for your industry and share curated content across social networks using Buffer.
Scheduler (Coming soon)
Schedule content you want to share. Put channels on autopilot mode to publish on your social media accounts.
We're Future Ready
Coming soon to you
Editor
Get Scorecard on your Content. Analyze Headline, Content and more to publish the most original and engaging content.
Recommendations
Get automated recommendations on what content to share, on what networks and at what times.
Engagement
Engage with People, Companies, Influencers, Authors and more without leaving StartupFlux.